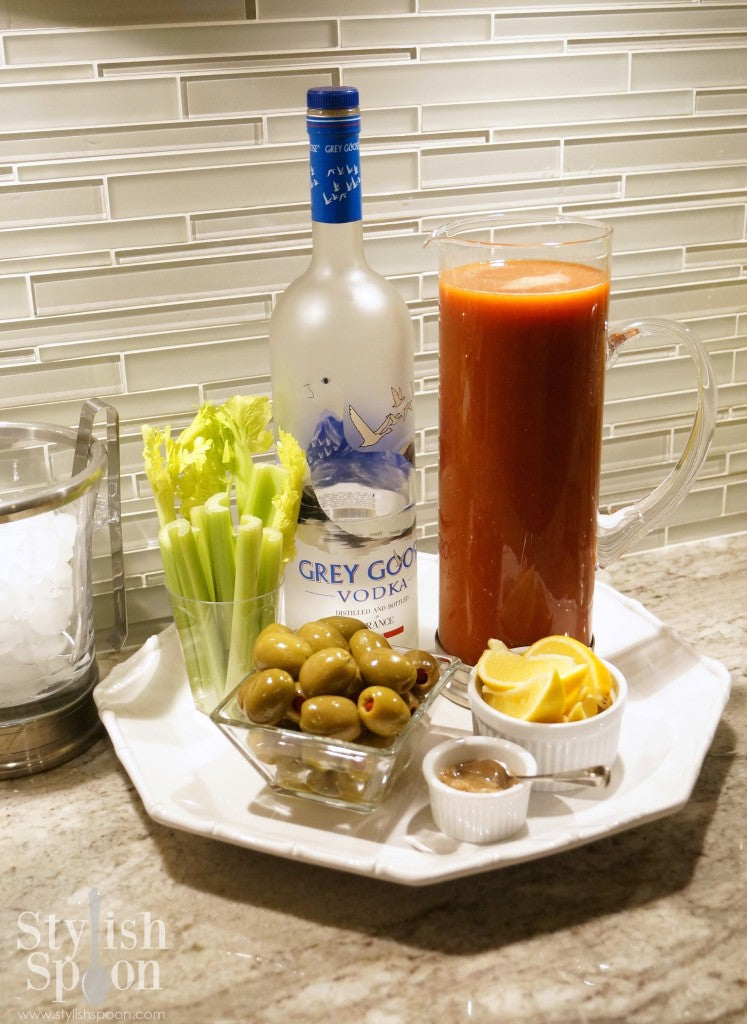 I'm a big fan of a brunch cocktail. Gone are the days of boozy brunches with bottomless mimosas, but I still get my brunch drink on. At home, I usually pick one signature drink and set it out on a tray so everyone can serve themselves. It's fun, casual and encourages everyone to linger for a while.
For this make your own bloody mary setup I kept it simple. I made a big pitcher of Ina Garten's Bloody Mary mix (so good!) and made it virgin so everyone could add their own vodka. I had a few expecting mamas in the group and wanted them to be able to make mocktails if they were in the mood. I set out the bloody mary mix along with vodka, celery sticks (I like to leave some of the leaves on the stalks), lemon wedges, horseradish for those who like an extra kick, and pimiento stuffed olives. Other good garnishes for a make your own bloody mary bar are: other types of olives (blue cheese or garlic stuffed are fun options), pickles or other pickled vegetables (cauliflower, peppers), shrimp, bacon, hot sauce (tobacco, sriracha), limes and flavored salts. Set out a bucket of ice, some tongs and glasses for an easy brunch cocktail setup.
What's your favorite bloody mary garnishe? Mine is definitely olives!