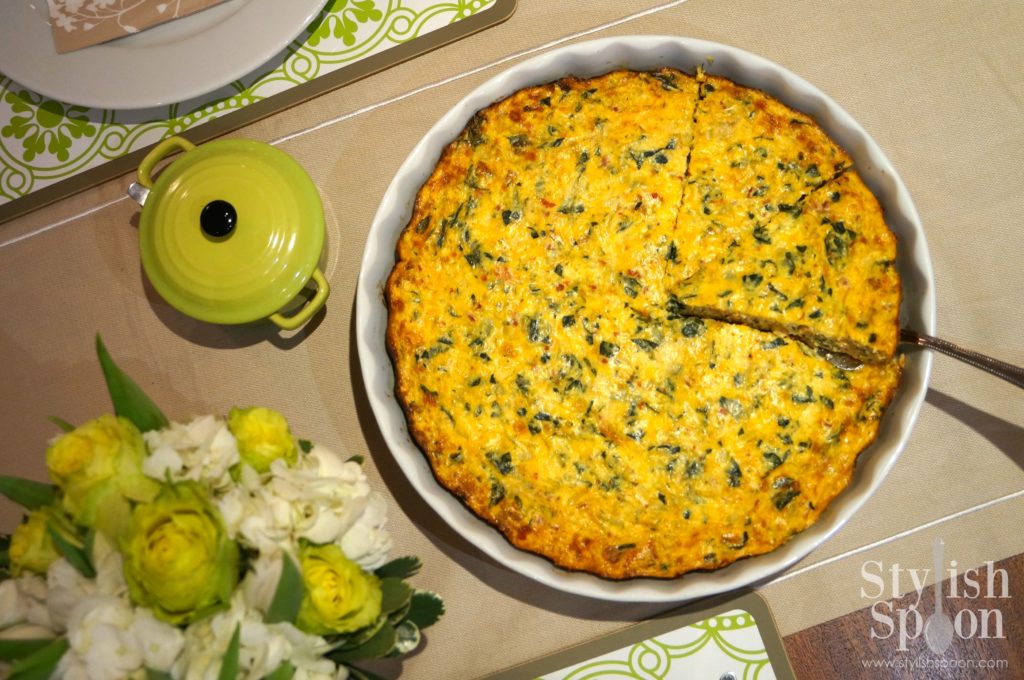 Without a doubt, the number one recipe on Stylish Spoon is my recipe for crustless spinach quiche. It has the most hits, has been featured on other sites the most of any post on this site, and so many of close friends make this crustless quiche for themselves.
The recipe is so versatile. I serve it for Easter brunch, on Christmas morning, at baby and bridal shower brunches and I often make it for lunch or a light dinner for my family. Those of you who have eaten this crustless spinach quiche at our house know that we call it a fritatta. Long ago my husband subconsciously decided that real men don't eat quiche. Whenever I offered it as a meal option he always passed it over, so I rebranded it as fritatta (which is usually cooked on the stovetop and then finished in the oven under the broiled, as opposed to quiche that is just baked in the oven). My husband now LOVES fritatta. Whatever you want to call it, it's delicious.
Feel free to use different cheeses and vegetables to change up this quiche. I often make it with mozzarella, spinach and chicken sausage. Sundried tomato chicken sausage from Trader Jo's (the kind that comes raw – not the cooked variety) is my favorite to add in, but any breakfast meat will work. I also make it with cheddar, broccoli, shallots and mushrooms.
You can also baked this crustless spinach quiche in a square dish and cut into small pieces for a tapas party. Serve it like a Spanish tortilla, at room temperature.
Do you have any favorite add-ins for quiche? Share in the comments.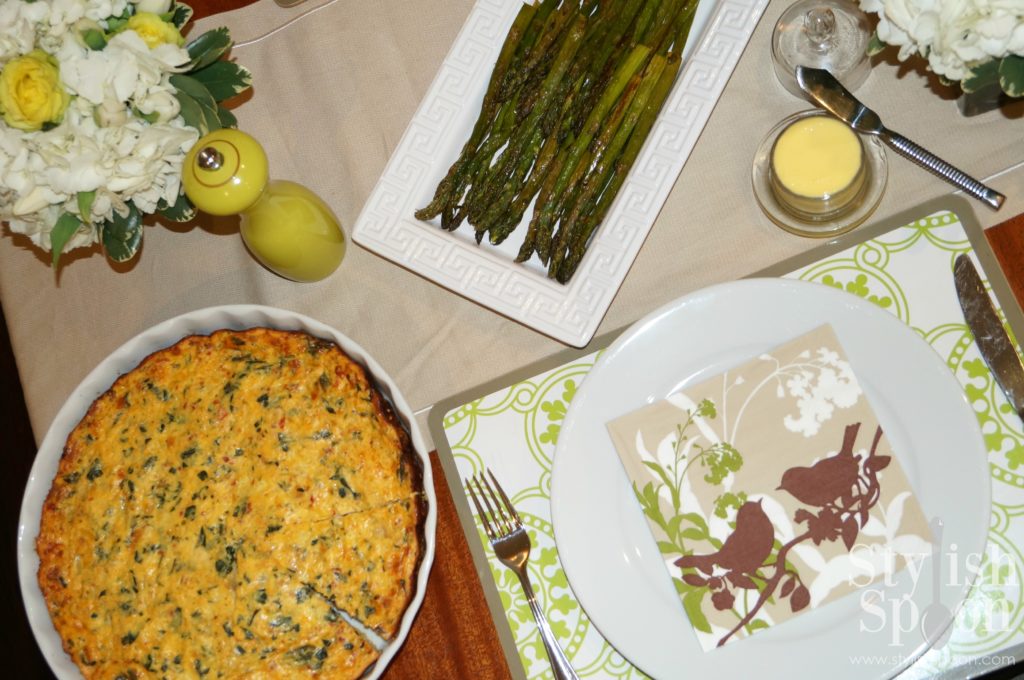 Low Fat Crustless Spinach Quiche
Whipped cottage cheese and low-fat cheddar lighten up this brunch classic.
Ingredients
8 eggs or 2 small cartons of egg beaters
1/2 container of low fat whipped cottage cheese or fat free ricotta (about 8 oz. total)
4 oz. low fat cheddar cheese, shredded
4 oz. Cabot chipotle cheddar cheese or pepper jack, shredded
1 large red bell pepper, chopped
1 medium yellow Spanish onion, chopped
1 bunch of spinach, stems removed and chopped (or 1 bag of pre-washed baby spinach, chopped)
1 Tbs. olive oil (or cooking spray)
Preheat oven to 350 degrees. Coat a large ceramic fluted quiche dish or glass pie dish with cooking spray.
Heat olive oil (or cooking spray) in a large nonstick skillet over medium-high heat. Sauté onion until translucent. Reduce heat to medium and add red peppers. Once peppers have softened, add chopped spinach. Sauté until spinach is completely wilted and most of the moisture has cooked off. Cool vegetables slightly.
In a large bowl, whisk together egg beaters, cottage cheese and shredded cheeses. Either mix the cooled vegetables into egg mixture or if vegetables are still very warm pour egg mixture over warm vegetables in bottom of quiche dish to prevent hot vegetables from cooking the eggs.
Place quiche in center of oven and bake for 45 minutes, or until cheese is bubbling, center is firm and top is golden brown. Cool slightly before cutting into eight wedges and serve warm.
http://stylishspoon.com/2016/03/25/brunch-recipe-low-fat-crustless-spinach-quiche/
Copyright Stylish Spoon - www.stylishspoon.com - All rights reserved