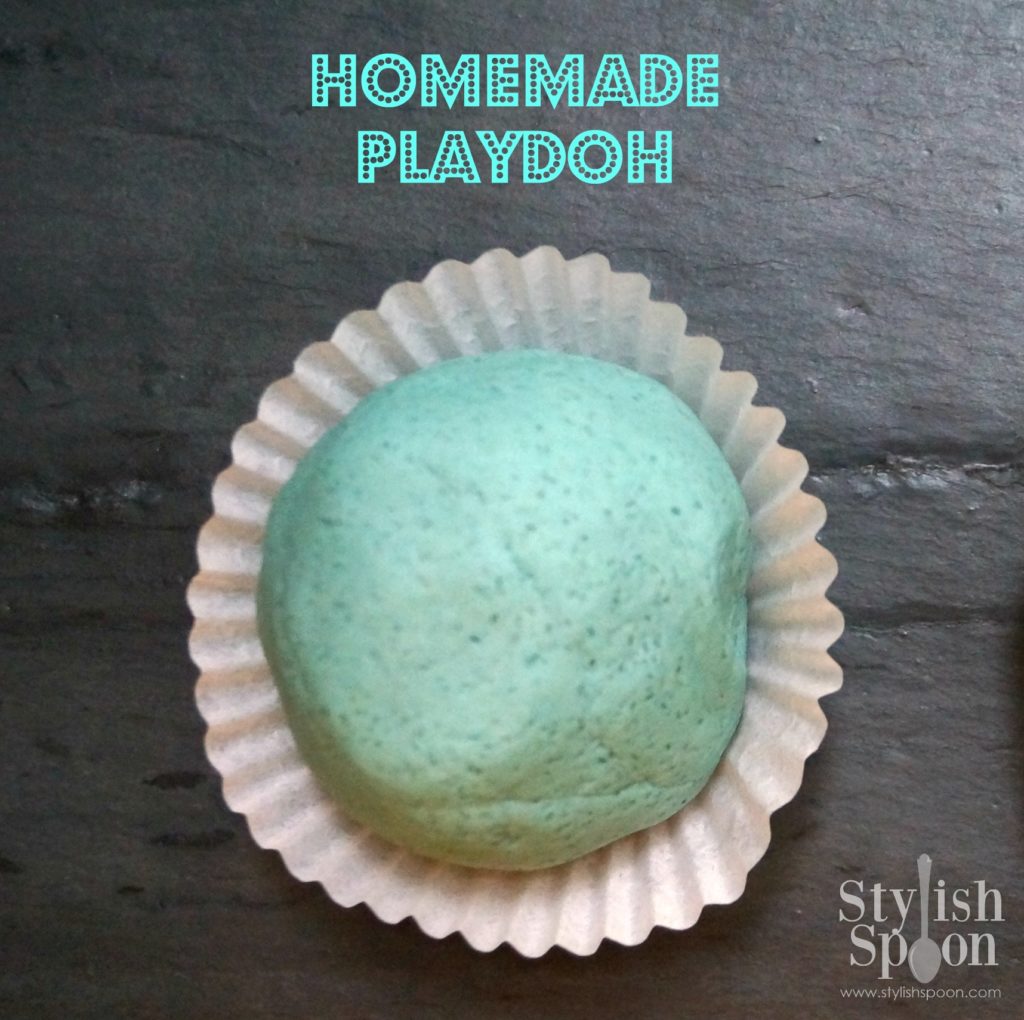 It's raining and we're cooped up in the apartment. I would do a baking project with the little miss but the baby is sleeping for who knows how long. All of the little miss's playdoh is in her room with said sleeping baby. So we decided to make our own playdoh. Before you start with your eye rolling take a quick glance at the ingredient list below and how long it takes to make it. Good, now you see how easy it is to make your own playdoh. This isn't the kind of playdoh that will last 6 months. Long lasting homemade playdoh requires cooking and/or cream of tartar. There are tons of recipes for that online. But if you want a fast and not so dirty method for making homemade dough your kid can play with to entertain themselves for a little, this is the one. I found the original recipe on Instructables (Easy, Affordable, Play Dough!).
Use a few drops of food coloring to make this whatever color your kid would like. We went for Frozen colors and were thinking turquoise and purple. The turquoise came out beautifully and the salt even makes the playdoh look like it has sparkles in it. I used 5 drops of blue and one drop of green. The purple did not come out as well. I used equal parts red and blue but I am out of the McCormick red food coloring and only had an all natural red, which did not work as well. It came out more brown and the dough is a bit stickier since I kept adding more color in the hopes of making it more purple. I would stick to primary colors if you don't want to end up with any brownish dough.
A good rainy day kids project. This dough is really for one time use - it's not the type that will replace your tubs of store-bought playdoh.
Ingredients
1 cup flour
1/2 cup salt
1/2 cup warm water
Food coloring, optional
Combine all ingredients in a metal or ceramic mixing bowl and stir with a wooden spoon until it looks like cookie dough. Use your hand to shape the dough into a ball. Add food coloring to make desired color.
Notes
Use a bowl that will not absorb any color if you are planning to use food coloring to color the dough.
http://stylishspoon.com/2016/04/02/kids-project-homemade-playdoh/
Copyright Stylish Spoon - www.stylishspoon.com - All rights reserved