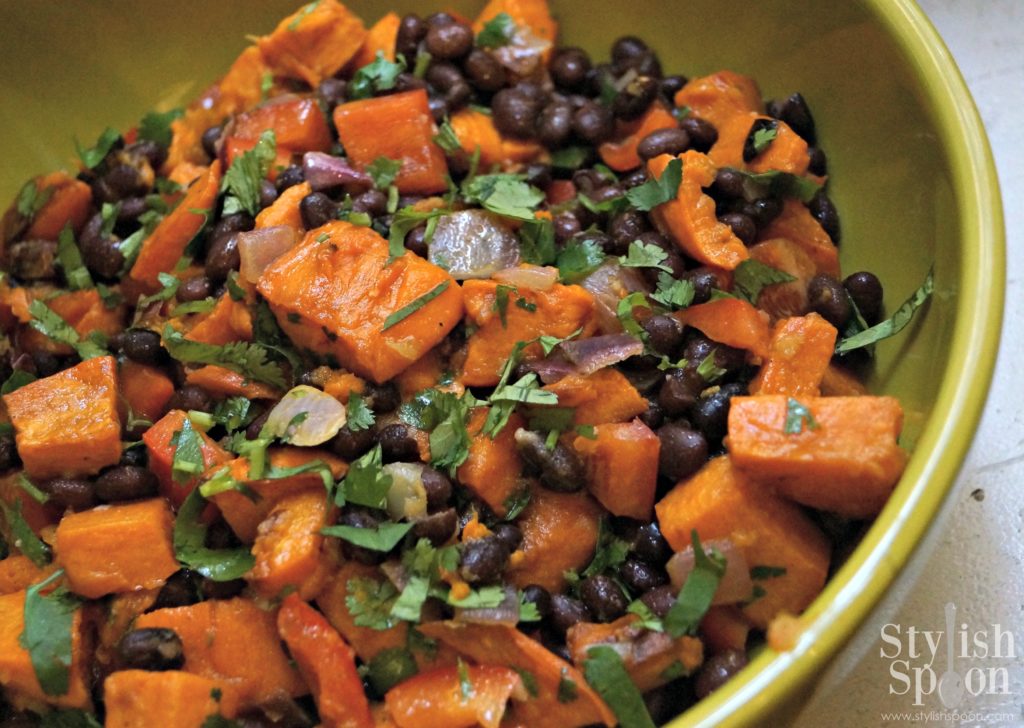 I know most people are firing up their blenders and smothering everything in queso in anticipation of Cinco de Mayo. I'm going to keep it festive and clean on Friday with this flavorful, sweet potato black bean salad that has great Mexican flavor without all the fat.
This sweet potato salad is adapted from Mark Bittman's recipe for Roasted Sweet Potato Salad With Black Beans and Chili Dressing from the NY Times cooking section. Black beans, red onions, fresh lime juice, jalapeño and cilantro come together to make this roasted sweet potato salad anything but boring. I was skeptical of the dressing for the salad when I first read the recipe. The dressing has just 4 ingredients: olive oil, lime juice, garlic and jalapeño. It is quite tart on its own. (There's a video of Bittman making the salad and you can see him pucker up when he tastes a dab of the dressing.) Typically I would add vinegar and Dijon to make a dressing for a potato salad, and perhaps even a drizzle of honey to balance the acid, but I put the trust in Bittman that he wouldn't let me down, and he pulled through. The tart lime juice is a nice contrast to the otherwise sweet ingredients (roasted sweet potato, roasted red onions and red peppers). If you toss the dressing with the potatoes while they're still hot it will absorb nicely into the sweet potatoes and gives the salad the right amount of bite and heat. I left out the jalapeño seeds because my people like to keep it mild, but you can leave them in if you like more of a kick. I loved the salad as is but you can also add a sprinkle of toasted pepitas and/or queso fresco (or goat cheese) and the flavors would go great.
We've been eating vegan 2 days per week to move even more towards a plant-based diet and this recipe is one that I will be making over and over. I love that it has healthy carbs, potassium and fiber from the sweet potatoes, vitamin C from the red peppers, protein from the beans and lots of great flavor. I served this sweet potato and black bean salad over mixed greens and am looking forward to the leftovers for lunch. This sweet potato and black bean salad will also be a great picnic dish to bring along this summer.
What's your favorite healthy Mexican-inspired recipe? Share in the comments!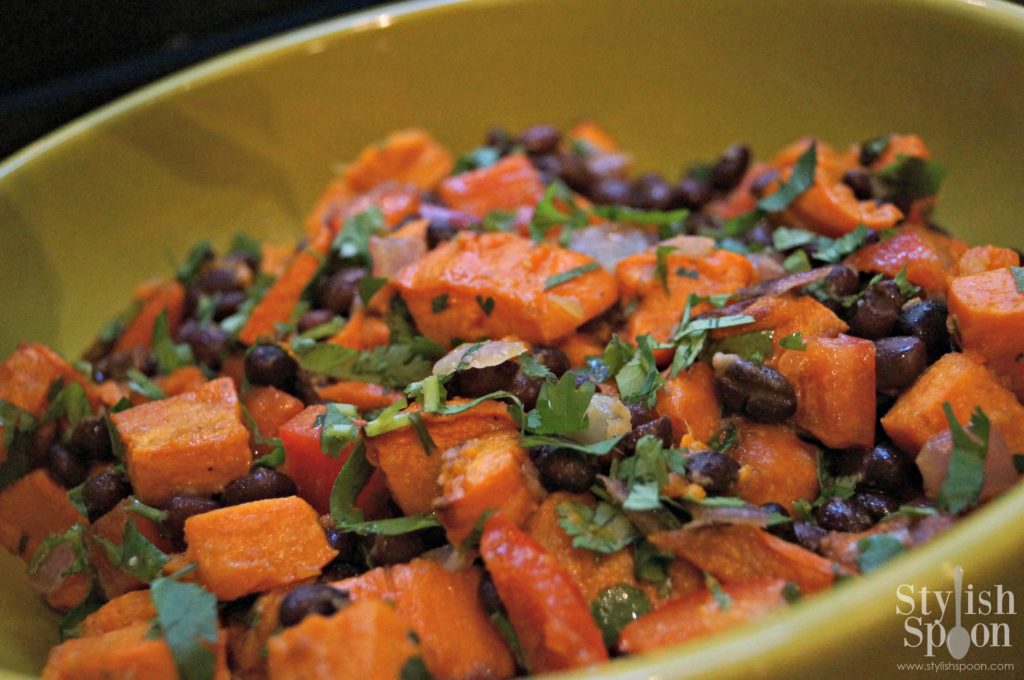 Sweet Potato & Black Bean Salad
This healthy vegan potato salad is adapted from Mark Bittman's recipe for Roasted Sweet Potato Salad with Black Beans and Chili Dressing that appeared in the NY Times.
Ingredients
3 medium sweet potatoes (about 2 lbs.), peeled and cut into 1-inch chunks
1/2 medium red onion, chopped into 1-inch pieces
1/3 C. olive oil
1 small clove garlic, peeled
Kosher salt
fresh-ground black pepper
1/2 jalapeño pepper (remove seeds for mild or add seeds to make it hot)
Juice of 2 limes
1 (15 oz.) can black beans, drained and rinsed
1 red or yellow bell pepper, seeded and finely diced
1/2 cup chopped fresh cilantro
Heat oven to 400 degrees. Put sweet potatoes and onions on a large baking sheet lined with tin foil and drizzle with 2 tablespoons oil. Toss to coat and spread out in a single layer. Sprinkle with salt and pepper. Roast, turning occasionally, until potatoes begin to brown on corners and are just tender inside, 30 to 40 minutes. Remove from oven; keep on pan until ready to mix with dressing.
Mince garlic in mini food processor, then add jalapeño, lime juice, remaining olive oil and a sprinkle of salt and pepper. Process until blended.
Toss warm vegetables in a large bowl with dressing and cilantro. Taste and adjust seasoning if necessary. Serve warm or at room temperature, or refrigerate for up to 2 days.
http://stylishspoon.com/2016/05/04/cinco-de-mayo-recipe-sweet-potato-black-bean-salad/
Copyright Stylish Spoon - www.stylishspoon.com - All rights reserved