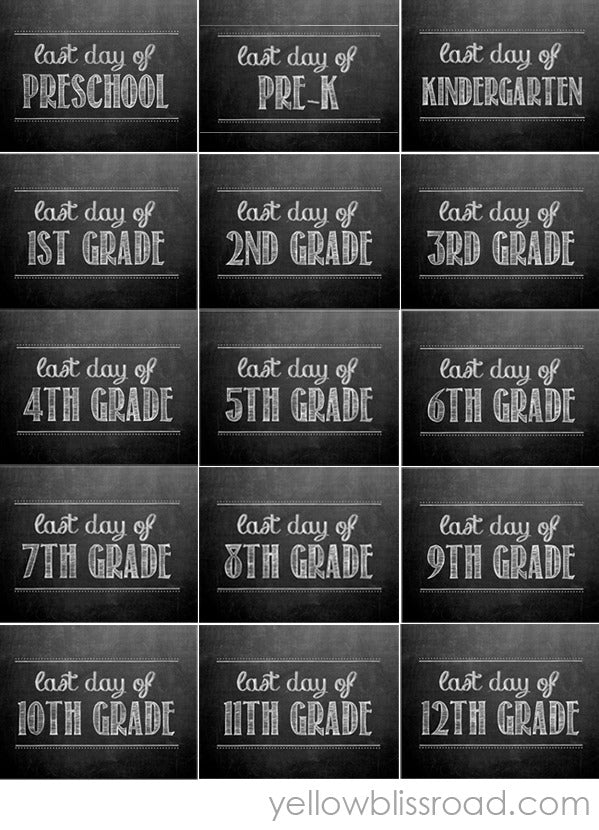 You know those super cute pics you see on Facebook of kids with a first or last day of school sign written in expert handwriting on a chalkboards? I always intend to do one of those, because how cute would they look in a photo book.  But every year I have somehow messed it up. Last year I put the wrong year on the sign (2004-2005 instead of 2014-2015). Mommy fail! I could blame it on pregnancy brain but I am pretty sure I had been pregnant for about 10 minutes at that time so….
Earlier this week my co-worker, a super organized mom of two, showed me the signs she had for her kids' last day of school and I went straight to her source. Adorable pre-made chalkboard looking first/last day of school signs abound on the interweb! I like the look of the ones pictured above so I printed the whole set of free printable first day of school signs and free printable last day of school signs (from preschool through 12th grade) from Yellow Bliss Road, printed 2 copies and have them in a folder labeled "First/Last Day Signs" in my files at home. As long as I can find the file, I now have signs through 12th grade so I'm good to go. I am fairly certain my kids will refuse to hold up the sign after 5th grade, but I can try.
Thanks in advance to Yellow Bliss Road for helping me look super prepared. Now I just need to remember to use them!
If you would like to download any of the first day of school or last day of school signs, click the hotlinks above to go straight to Yellow Bliss Road. You have to click on each sign for each grade separately to open and print them. Here's to avoiding future mommy fails, at least with the first and last day of school signs.