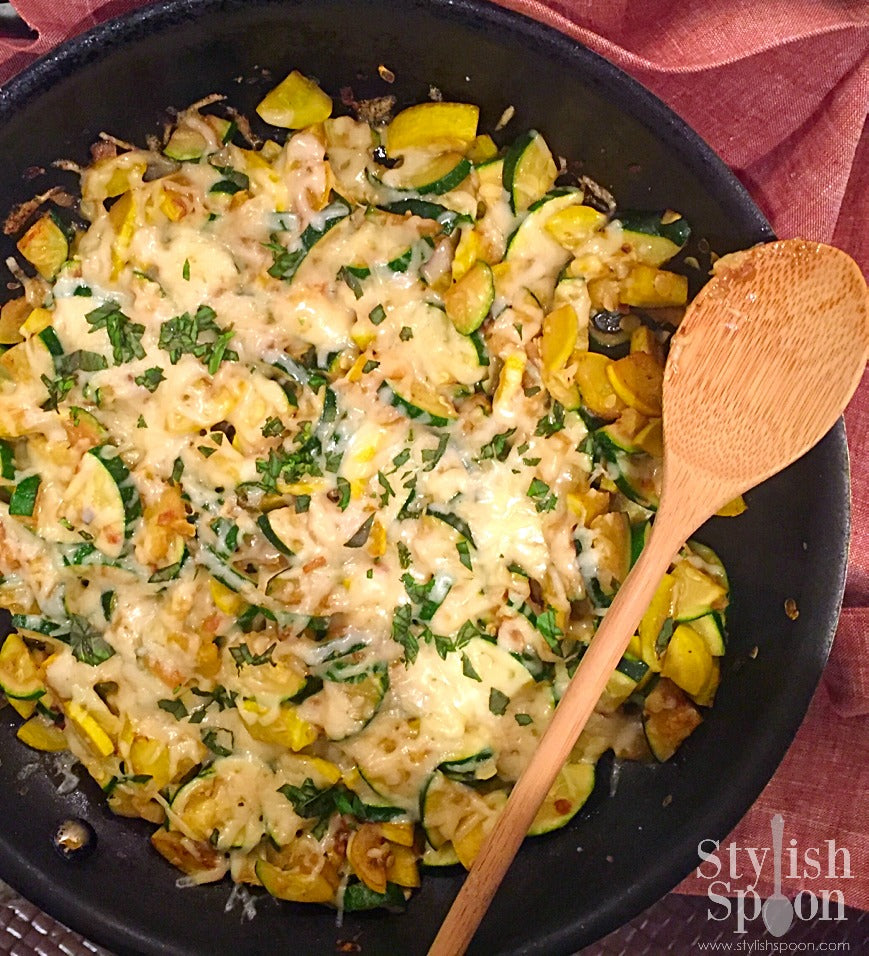 This cheesy skillet zucchini is one of those dishes you can easily make without a recipe. It's simple and delicious, and I know people are always looking for ways to use up a bumper crop of zucchini (me too!) so I'm posting for anyone who needs inspiration. That being said, you barely need to look at the recipe. Sauté some shallots in olive oil, add chopped zucchini and cook until soft, top with good parmesan cheese, cover to melt the cheese and enjoy the cheesy goodness.
Who doesn't love a cheesy skillet veggie?!? Don't answer if it's you because we probably shouldn't be friends. Try as I might to keep away from dairy, the cheesy deliciousness always finds me after some time. Thankfully parmesan is pretty low in lactose and I can mostly eat it without any digestive repercussions. Parmesan does add a ton of natural umami flavor to any dish for relatively few calories, so I use it sparingly. Trader Joe's has a freshly shredded parmesan cheese (aged a minimum of 10 months, they say) with big shreds that melt beautifully. I keep a bag in my fridge for when I want to add a lot of flavor to a dish with very little effort. Tonight was one of those times. I put the girls to bed, looked at the pile of zucchini and yellow squash from my crop-share on the counter, and could foresee the zucchini turning soft by tomorrow if I didn't use them tonight. I piled some leftover quinoa salad on our plates, made this cheesy skillet zucchini bake and had a light but filling summer dinner on the table within 20 minutes.
This cheesy skillet zucchini would be even better with a few minutes under the broiler, where it would develop a nice brown cheesy crust on top. My mouth waters just thinking about a cheesy crust. Tonight, however, I was avoiding the inevitable groan from my husband when he comes home to a warm and steamy apartment in the summer after sweatin' it out on the subway platform during his commute home. To avoid said audible groan, I cooked the cheesy skillet zucchini on the stovetop, and kept my oven off and my apartment relatively cool. If your partner does not care about their core temperature as much as mine does, you go ahead and give this a whirl under the broiler. Be sure to use an oven proof skillet if you do go all out with the broiler.
An easy and delicious recipe to use up a bumper crop of zucchini. Serve it as a side with grilled meat or along with quinoa and a salad or crusty bread for a light summer supper.
Ingredients
4 medium zucchini and/or summer squash, quartered and cut into thin slices (about 1/4" thick)
1 shallot, chopped
olive oil
1/3 cup freshly shredded parmesan cheese (such as Trader Giotto's available at TJ's)
fresh basil (about 5 leaves), chopped
Heat large skillet over medium-high heat. Add a splash of olive oil and once hot, add shallots and sauté until soft and slightly brown. Add zucchini and continue to cook, stirring every few minutes to make sure the zucchini cooks evenly, until soft but not mushy. Turn heat down to low and top with parmesan cheese; cover and allow cheese to melt (about 2 minutes). Remove from heat and sprinkle with chopped basil. Add salt and pepper to taste. Serve immediately.
Notes
If you would like a cheesy crust on your dish, use an oven-safe skillet and melt cheese for about 2 minutes under a preheated broiler instead of on stovetop.
http://stylishspoon.com/2016/07/06/recipe-cheesy-skillet-zucchini/
Copyright Stylish Spoon - www.stylishspoon.com - All rights reserved
Do you have a favorite easy/healthy zucchini recipe? Share in the comments, because you know we're all looking for more to add to the summer rotation.