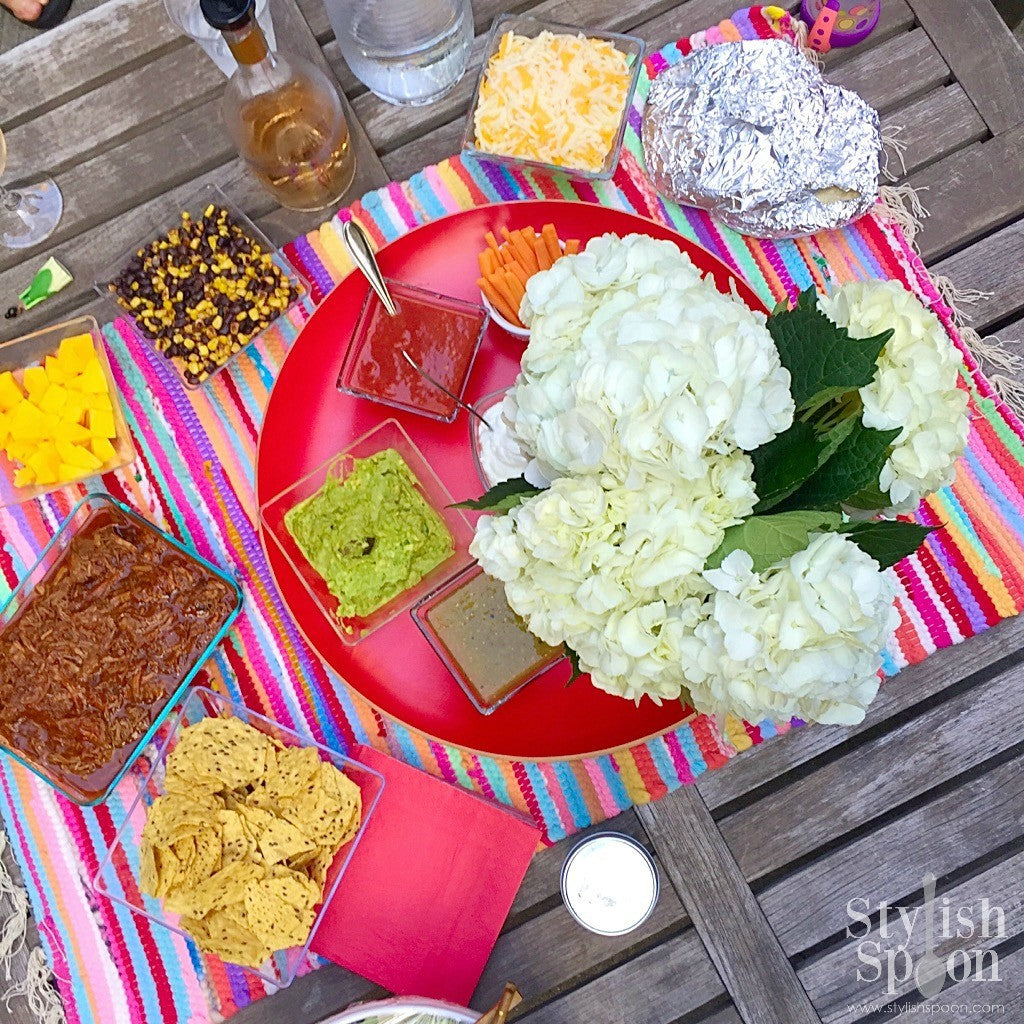 Think your slow cooker should be banished for the summer? Think again. Here's a great year-round slow cooker recipe: Easy shredded beef taco meat. It gets dinner done without turning the oven on, which in my house is a super huge plus.
I made this slow cooker shredded beef taco meat last Friday while I was at work (gotta love the slow cooker!), served it for a taco spread in our backyard Friday night, and then again on Sunday night to rave reviews. I got 2 separate emails asking for the recipe so it's time to share. It's the third time I've made this easy slower cooker shredded beef taco meat and it is hands down my favorite slow cooker recipe to date.  I found the recipe a while back on Pinterest. It's from Gimme Some Oven, and was inspired by an original recipe on My Kitchen Addiction. It's a recipe that is spreading around the food blog world for good reason. It is delicious, easy and perfect for entertaining.
It's worth noting that you have to sear the meat before you put it in the slow cooker to seal in the moisture and give the meat a deep caramelized flavor. I've found that with all of the slow cooker cooking I have done, it makes a huge difference in the flavor if you saute veggies and sear meat before adding to the slow cooker, so don't skip that step. I know it's another pot or pan to clean, but it's worth it. Also, you can sear the meat the night before, put the seared meat in the fridge, and then toss it (along with the juices that it leaves behind on the plate – you don't want to waste any of that good flavor!) in the slow cooker in the AM. I usually do that because I am often pressed for time in the AM and searing meat in the morning isn't ideal for me.
Make this easy slow cooker shredded beef taco meat while you're at work, out running errands or while you're asleep (though it's a little weird to wake up to the smell of spiced meat in the AM, I can tell you that from experience). It takes about 15 minutes of prep, 6 hours in the slow cooker, 5 minutes to shred the meat with two forks and then done. The best slow shredded taco meat I have ever made.
I served the slower cooker shredded beef taco meat with the following for taco night:
Corn tortillas
A few different salsa
Guacamole
Lime wedges
Diced mango (surprisingly delicious with the meat!)
Jack cheese
Greek yogurt (faux sour cream in our house)
Roasted corn
Black beans
Sriracha (for those who want even more of a kick)
We're big on the make your own taco thang in our house. We do taco night almost every Wednesday. Taco Wednesday. Never heard of it? It's sooooo much cooler than Taco Tuesday. It became our thing when I was pregnant with #2 and couldn't get my act together for Taco Tuesday a few weeks in a row. It's now a family joke. Taco Wednesday it is.
If you have leftovers, use the easy slow cooker shredded beef taco meat to make burrito bowls during the week. I use quinoa as the base, adding black beans, steamed kale, pico de gallo and toasted pepitas or crushed up tortillas chips for a little crunch.
Do you have a favorite summer slow cooker recipe? Share the link in the comments!
Easy Slow Cooker Shredded Beef Taco Meat
Easy, super flavorful and moist taco filling that can be made in your slow cooker. You can sear the meat the night before and keep it in the fridge until ready to cook the next day, just be sure to add the juices that collect along with the meat to the slow cooker before cooking.
Ingredients
2 Tbs. olive oil, divided
4 lbs. Chuck pot roast (I used grass-fed, and ordered it tied so it cooks evenly)
3 tsp. ancho chili powder (ancho is more mild and slightly sweet, but you can use regular chili powder if you like more spice)
3 tsp. cumin
1 tsp. smoked paprika
1/2 tsp. kosher salt
1 cup beef stock
4 oz. tomato paste
1 chipotle pepper in adobo sauce, minced (add more for additional heat)
1 medium onion, diced
6 cloves garlic, minced
Pat meat dry with paper towel. Combine chili powder, cumin, smoked paprika and salt in a small bowl and rub evenly over meat. Heat 1 tablespoon olive oil until hot in a cast iron skillet over medium-high heat. Carefully place meat in pan, sear each side until a golden crust forms, about 2 minutes per side. Remove meat from the skillet and place in slow cooker.
Add remaining 1 tablespoon olive oil and diced onion to pan. Saute until soft and slightly brown, stirring occasionally, about 3 minutes. Add garlic and saute for 1 minute. Add beef stock and stir, scraping up the brown bits on the bottom of the pan from the meat. Add tomato paste and minced chipotle, stir into sauce until well combined. Bring sauce to boil, reduce heat, and simmer until sauce has reduced and thickened slightly, about 3 minutes. Pour pan sauce over the beef in slow cooker.
Cover and cook on low for 6-8 hours, or on high for 3-4 hours, until the beef shreds easily.
Shred beef with two forks, and toss to coat with sauce. Add additional salt to taste.
Notes
Adapted from Gimme Some Oven
http://stylishspoon.com/2016/07/29/recipe-easy-slow-cooker-shredded-beef-taco-meat/
Copyright Stylish Spoon - www.stylishspoon.com - All rights reserved