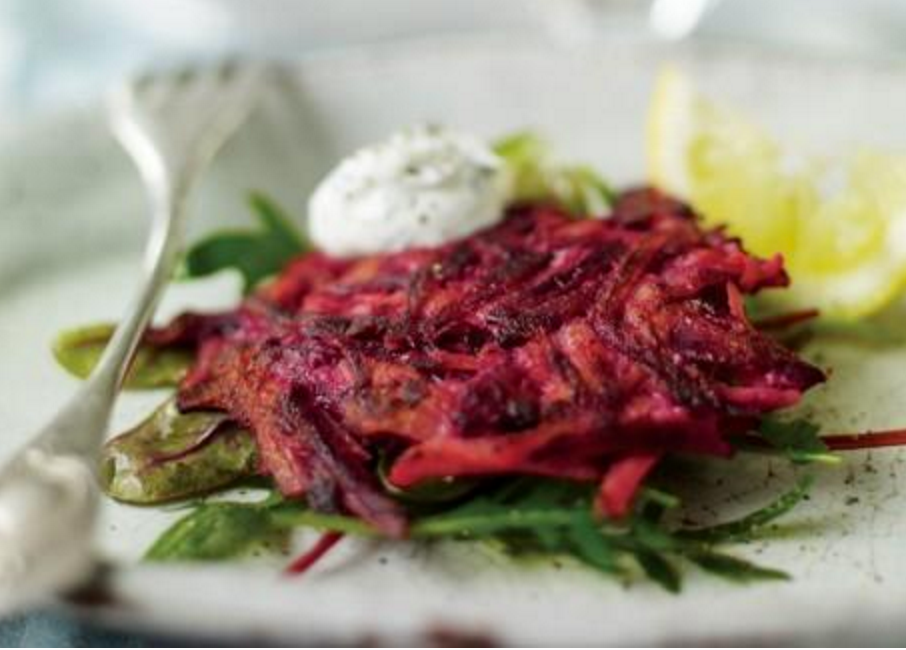 If you have a plethora of beets on hand, like I often do this time of year from my CSA crop-share, this recipe is a great way to turn them into something spectacular. These beet pancakes are similar to a potato pancake (latke for those who know Hanukkah), but made with beets and carrots instead of potato. These beet pancakes are an original recipe that I developed for Vegetarian Times (called them Jewel-Tone Pancakes with Creamy Yogurt-Dill Sauce) for the 1 food 5 ways: Beets feature article I wrote for the mag. The beet pancake recipe has received great reviews from VT readers. One genius VT reader made the recipe vegan by substituting 1 1/4 cups chickpea flour + 3 Tbs. water for the egg in the recipe. Other readers said it worked well!
I top these beet pancakes with a simple, creamy yogurt dill sauce and serve them as an appetizer for fall and winter entertaining. They are both delicate and filling and have a sweet, early flavor. I also make these beet pancakes as a light Meatless Monday dinner and serve with salad with a simple vinaigrette.
For a vegan topping, use a dollop of tofu scallion cream cheese (such a Tofutti) or Greek coconut yogurt (I love Anita's Creamline Coconut Yogurt that I buy from Freshdirect, Westerly Natural Market or Gary Null's Uptown Whole Foods).
Photo Credit: Vegetarian Times
Print
Nutrition facts

(per portion)
Nutrition facts
(per portion)
Calories: 44
Carbohydrate Content: 6
Cholesterol Content: 27
Fat Content: 1
Fiber Content: 1
Protein Content: 4
Saturated Fat Content: 1
Serving Size: 1 pancake
Sodium Content: 342
Sugar Content: 4
Beet Pancakes with Creamy Yogurt-Dill Sauce
Similar to a potato pancake, a beautiful beet pancake topped with a dill yogurt sauce makes a great appetizer, or you can serve two or three as a light entrée. The batter will look loose at first, but after a few minutes the pancakes will be sturdy enough to flip.
Ingredients
Instructions
1. To make Yogurt-Dill Sauce: Whisk together yogurt, dill, lemon juice, garlic, salt, and pepper in small bowl. Refrigerate until ready to use, up to 3 days.
2. To make Pancakes: Preheat oven to 250°F. Coat baking sheet with cooking spray, and set aside. Shred unpeeled beets and carrots in food processor fitted with grating blade, or grate with box grater. Place beet-carrot mixture in large bowl, and toss with garlic and salt. Add egg and egg whites, and mix well. (Vegan variation: Use 1 and 1/4 cups chickpea flour + 3 Tbs. water or enough to make the batter spreadable but not runny).
3. Lightly spray large nonstick skillet with cooking spray, and heat over medium-high heat. Drop ¼ cup beet mixture into skillet, and flatten slightly to form 3-inch-diameter pancake. Repeat, forming 3 other pancakes in pan. Cook 4 minutes, or until undersides are golden brown. Flip pancakes, and cook 3 minutes more. Respray pan, and repeat process with remaining batter, keeping prepared pancakes warm in oven. Drizzle with Yogurt-Dill Sauce, and serve immediately.
Add to Favourites