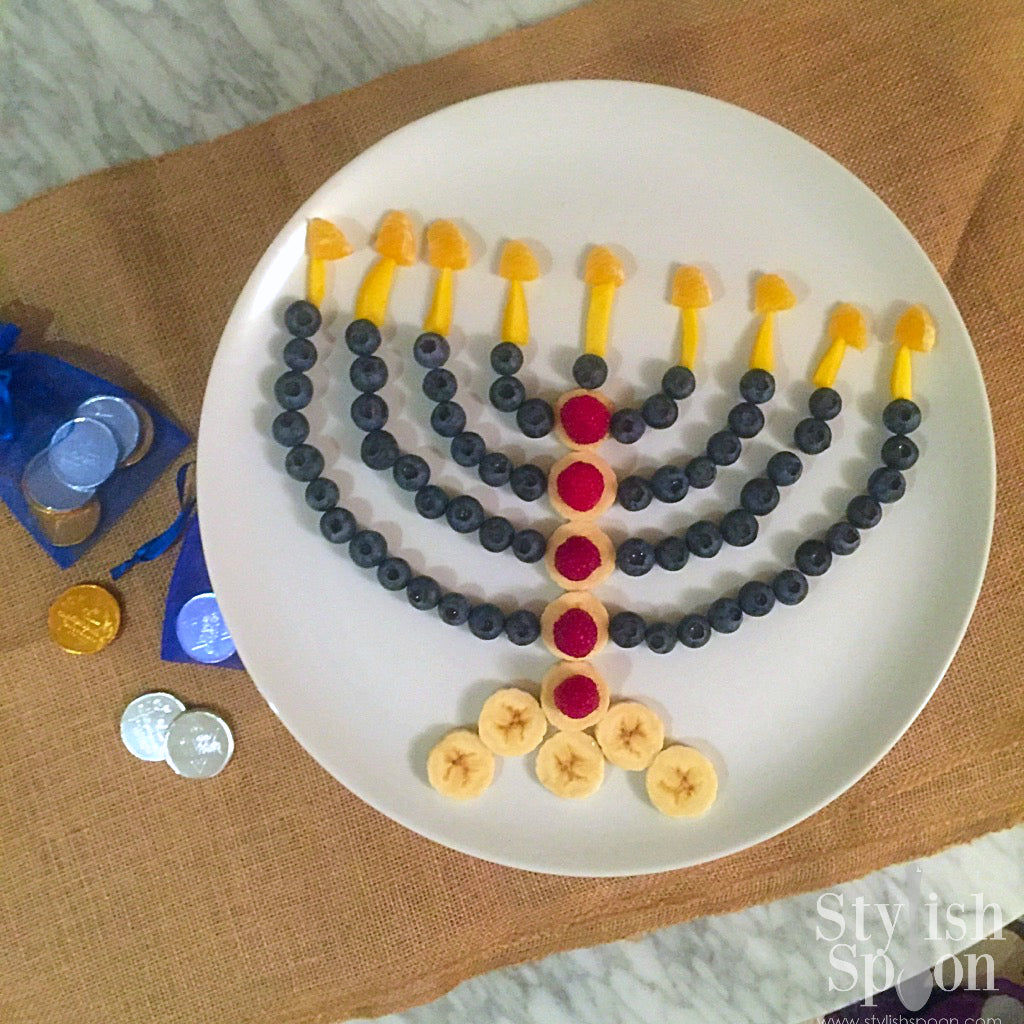 Not all holiday foods need to be unhealthy. After you've fried some type of tuber in a few inches of oil, no one really needs to be eating a heavy desert. You just need to make a healthier option look cute and festive, and everyone will be happy.
This menorah fruit platter is a fun way to serve up some fruit for Hanukkah. The menorah fruit platter was literally devoured by my girls moments after I placed the platter between them (i.e. 5 seconds after I finished taking this picture). The entire platter look all of 10 minutes to put together, including the time it took me to wash the fruit.
Below is a list of what you will need to make this exact fruit menorah, but you can definitely change up the fruit and use any fruit you like and can easily find.
Fruit Menorah
A festive way to serve fruit for Hanukkah. You will need a large platter; a dinner plate will not be large enough to make all 8 arms of the menorah. Use whatever fruit you like and can easily find. An apple would work just as well as a mango for the candles, using the white flesh to cut into thin slices.
Ingredients
Instructions
For the base of the menorah, place slices of banana in a straight, vertical line. Use a few additional slices of banana horizontally at the bottom to create a stand for the menorah. Place 1 raspberry on each slice of banana on the base for a little extra color.
Use the blueberries as the arms of the menorah. Create the outer most arms first, starting near the bottom of the base, and create symmetrical curved lines of blueberries arching upwards towards the outer edge of the platter. Move up to the next banana on the base and make the next set of arms coming out of that banana slice, using the same symmetrical curved lines of blueberries, only narrower. Continue the same way 2 more times, moving further up the base to create 8 arms of the menorah total. Place 1 blueberry on the top of the menorah base (above the top banana slice), for the shamesh candle.
For the candles and flames, cut mango into 9 slices, about 1" long each and 1/4" thick. Place them on top of each blueberry arm of the menorah. Using a sharp knife, cut the tips off of 9 clementine wedges to use as the flame of the candles. Top each candle with 1 clementine cut wedge, facing the curved part of the clementine in the same direction for each of the candles.
Add to Favourites