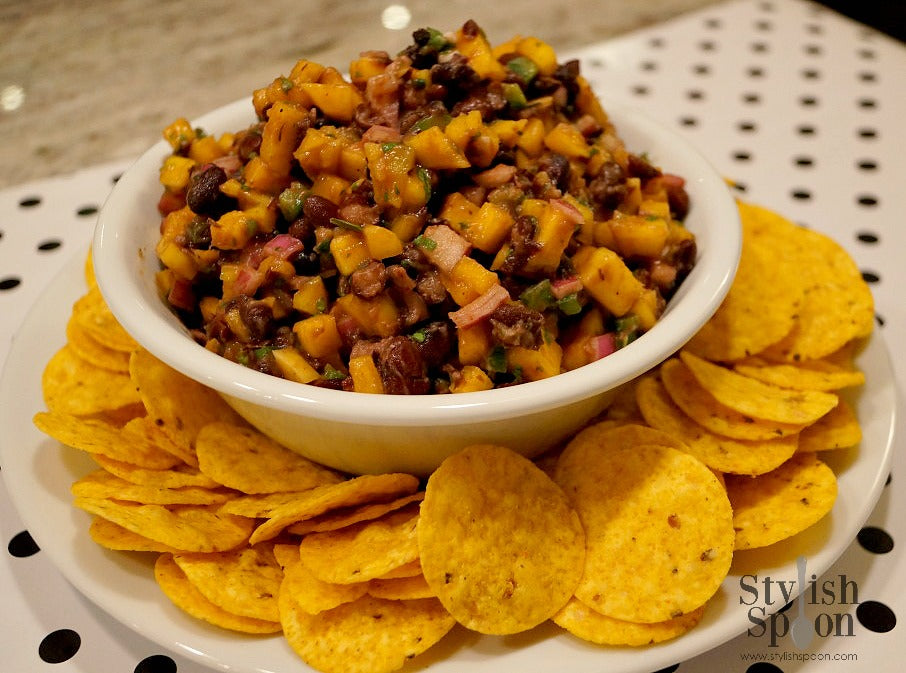 For me, Cinco de Mayo is a great excuse to have friends over for a casual Mexican-inspired feast.  I like to serve a few different types of salsa, and this black bean and mango combo is one of my favorites.  It has a mild kick from the jalapenos, which is balanced perfectly by the sweetness of the mango.  The black beans give the salsa some heft and a healthy dose of fiber.  This dish is naturally gluten-free – just be sure to serve it with gluten-free tortillas chips.
This salsa is a hit with kids too.  My little one loves having a little plate of this to herself – with or without the chips.  I served it at her 2nd "bee-day" party because the colors went with our bumble bee theme.  Be sure to seed the jalapenos to make this dish mild enough for kids, or keep the seeds in if you want to add more heat for a gown-up crowd.
Serve leftovers of this salsa over seared tuna crusted with cumin or tilapia.  Leftovers will last for a few additional days in the fridge, but it's best eaten within a day if you're after a pretty presentation (the colors will not be as vibrant and the salsa will meld a little more after a few days in the fridge).
This recipe is inspired by a Bobby Flay recipe – he is my go-to for Southwestern and Mexican-inspired recipes.
This simple salsa is a huge hit for parties. Serve it with tortilla chips for a fiesta theme party or Cinco de Mayo.
Ingredients
(2) 14 oz. can black beans, drained and rinsed
2 mangos, peeled and diced
2 limes, juiced
1/2 large red onion, diced
1/4 cup olive oil
2 jalapeño peppers, seeded and minced
1/2 cup cilantro, chopped
salt and pepper, to taste
Combine black beans through cilantro in a large bowl. Toss well and season with salt and pepper to taste.
Notes
The salsa can be prepared up to 1 day in advance and refrigerated in an air-tight container. Bring to room temperature about 1 hour before serving.
http://stylishspoon.com/2013/05/02/cinco-de-mayo-black-bean-mango-salsa/
Copyright Stylish Spoon - www.stylishspoon.com - All rights reserved